Forum Posts
In Theorycraft
Do you wish to place your fate in the hands of the fortune while chasing the highest of high rolls? Do you want to possibly destroy your opponents on the second turn of the game, dealing over 40 damage in a single blow? Then oh do I have the deck for you. The "Casino Invoker" is definitely the funniest and wackiest deck I've created so far. This deck is highly luck reliant as one might guess from the name, but still works out with surprising consistency! Combining the three powerful cards Raze, Apotheosis and Inferno, this deck has the potential to wipe an unwary contender out of the game in an instant. Having multiple possible game winning combos helps you stay in the match even if one of them gets countered. However, against heavier control decks, it is definitely possible to run out of options and for the match to become unwinnable. Feats and Invoker cards Ponder not only helps dig for the right cards you need in this combo reliant deck, but also allows moments where you know exactly what is on top of your deck to help make the correct decisions when you have Apotheosis out. It also simply provides a steady stream of power generation, which can be really crucial at times. Prodigy easens up the early game where you might have a bad starting hand with its 2 free power. Increased maximum power cap also allows for Infernos to be even more devastating. Inferno and Apotheosis are the central combo pieces of the deck. Inferno uses up all the expensive cards for absurd damage, while Apotheosis makes sure we can actually afford to place those cards in the deck. Pyre helps you to play all of these fancy expensive cards, while also providing crucial fuel for the Inferno's unleash trigger. For some utility, we take Flashburn and Firepower. Firepower's ability to generate more power makes it the best card destruction card to choose from the pool of cards available for the deck, while Flashburn provides silence which hopefully stops counters aimed at your your big attacks or saves Apotheosis from card destruction. Giant and Wizard cards The big bad Raze is the third key combo card to the deck. In many matches, landing a single Raze places your opponent in a position they cannot recover from. And this deck lets you play them for free with Apotheosis! And of course it can also provide incredible 8 points of damage for Inferno. However, Raze and Inferno isn't quite enough damage yet to make the deck consistent. Continuing with the theme of big attacks with high costs, the deck also has three Smash, three Cosmic Blast, two Comet and one Clobber. Smash simply provides great value, and so does Cosmic Blast as it gives us more inferno power without taking up your power with the Cantrip. One copy of Clobber is included to add a tiny bit of more damage that was missing after playtests. Lastly Comet is another value card for Inferno but will also keep your opponents on their toes since you mostly fight at range one, yet it can reach range four to finish them off! As a combo deck, drawing the cards you need is of utmost importance. So we have two copies of Eureka which again provides Inferno value while not necessarily costing power and a full set of Thinking Time. Manafold is also included as 3 of and can be used for either card draw or a move, and also generates the much needed power. To not let the opponent mess up our plans, the deck has Telekinesis, Flux and Befuddle. These can all slow your opponent, which in most cases shuts down all control and lets you unleash your combos in peace. The movement aspect of Telekinesis is also very helpful at times, as most of your cards are at range one. Lastly, we have Arcane Lock and Giantskin. Arcane Lock is a handy card to protect the very expensive Apotheosis. However, since Apotheosis is the only expensive card to use it for, two copies is well enough. Giantskin is a nice early play that keeps giving power which is needed a plenty. It is up to you to choose would you prefer more copies of Flux or Giantskin, but so far I've felt the need of power to be the greater flaw to address. Strategy Your goal is to hit your opponent with as much damage as possible without giving them time to recover. The gameplan will depend a lot on what you draw at the start of the game and of course what your opponent is playing. In the early game, you will hopefully find and play your card draw and utility cards, building up your power. This power then goes to either an Apotheosis play or Inferno play. For both of these, you need to be certain your resources will not go wasted. In an ideal situation, you will slow your opponent with Befuddle or Telekinesis before playing the big cards. If you think your opponent has counters available and you can't slow them or force them out, you might need to wait longer before going for a combo. For Inferno, the ideal situation is going to the improved maximum of seven power thanks to Prodigy, and then playing a Pyre. Or two. And then going for the Inferno! My best Inferno so far was 48 damage on turn two of the game, immediately ending the game with no second winds allowed. For Apotheosis, you must make sure it will provide value at least once before being destroyed. Otherwise, you risk losing all the tempo in the match. So either make sure you have counters ready if they don't let it resolve, or play it our of their range and use Arcane Lock. The best situation is if you know the opponent can't react and can get within range one of them on the same turn, in case you find a Raze from the trigger. When things don't go your way and you're not finding your combo cards, you are going to face some difficult choices. In such cases keep digging with your Ponder while keeping a high resource pool available so that when you find your combo pieces you are able to act as soon as possible. Don't be afraid to overdraw cards from your deck and end up discarding some. If the expensive cards end up being in your hand, you most likely won't end up playing them either way. The biggest concern overall are enemies with a lot of instants, especially if they have access to heroic ones that you cannot force out of them. Against such matchups, your best hope is to try to protect your Apotheosis at all costs to try to force them out of instants eventually. And hope your deck won't run out before that! Manifest Variant Originally, this deck was made with Manifest instead of Wizard. If you choose that class you will get access to Projection and True Focus which bring their own gimmicks, but at the cost of the Cantrip efficiency and a lot of the utility tricks at your disposal. Instead of Ponder, you can use Crystal Focus, although in the current version of reworked Winterstorm cards it is no longer as fitting and one more reason I think the Wizard variant is the superior choice. Other than those cards, the rest would be utility focused manifest cards of your choice like Unison and Realization. Closing words Now you are ready to scorch and blast your opponents to a million pieces! Playing this deck is always such a blast, and I cannot wait to make it with the actual physical cards later this year. Hope you enjoy it as much as I do, and may the luck be on your side for the precious combo cards to not be in the... middle of the deck? Thanks, Ponder.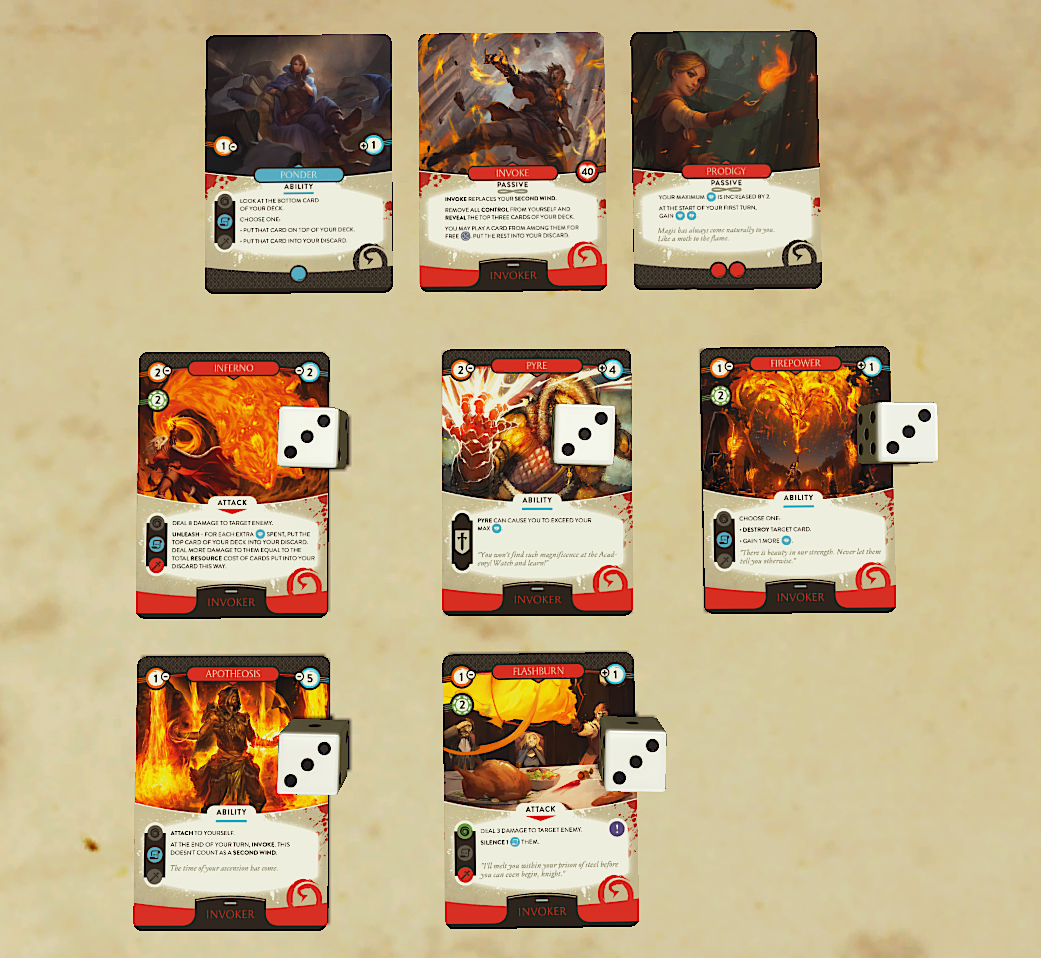 In Theorycraft
Today I bring you one of the most fun decks I've made from the Calbria expansion, my Unbound/Strive for glory errant! The moment unbound was changed to draw a card when your hand is empty, I knew I wanted to make some wacky deck abusing it to its full potential. This deck is the end result after testing various specialisations. The strive for glory and incredible errant cards make this the best unbound deck I can think of. Errant's ultimate itself also helps to stabilise your hand as you get to use it pretty much every turn after the attacking has begun. Overview The idea of the deck is to be as aggressive as possible, mercilessly discarding your own hand with strive for glory to create long chains of attacks with unbound. It is entirely possible to get a full 40 damage or more turn if the stars align correctly and your opponent doesn't have enough interaction available. You still need to make wise choices during gameplay, however. Judging your opponents tools is important to know which ability cards you can afford to discard immediately and which to keep around for a while. Cards Errant Errant has so many good cards! The ones that benefit this deck the most are these. Cut down and wild steel are absolutely necessary for actionless damage, allowing those crazy long chains of attacks. Strike true makes it possible to clear any disarm you might have effectively, while also being a great finisher due to almost always resolving. We have one rite of arms to get some more reliability to the deck, being able to fetch any attack wanted back to the hand, for example the said strike true. To battle is an amazing card that completely negates your opponent counting on only slows to keep you out of their range, and swordplay is a very solid instant that can also be played pre-emptively if you get stuck with it in your hand. I used to run 3 of each without having the rite of arms, and it is personal preference would you rather have 3 to battles or swordplays. Personally I went with the extra interaction piece. Warrior Ah, good old warrior package of pure damage! These don't need much explaining. Cripple is the staple for preventing enemy interaction, fight with honor is great value and tenacity can really save the game. A couple charges are added to go with the to battles as using actions efficiently is very important for the game plan, and you can always discard the unneeded movement cards with strive for glory. The deck does not run dismember despite its awesome value because if you get stuck with it before a player has second winded you would have to play it with terrible value. Or be stuck with it in your hand, unable to get unbound value, unless you get wild steel. Both options would spell your doom! Sorcerer For unbound, we need a red class. Sorcerer is the better choice here, giving some solid utility options. We get another attack with slow that shuts down most interaction in enfeeble. Inner fire is a great card to get some early cycling and power, and flare can be used to either gain early power or discarded with strive to sneak in a free stun. Even the most aggressive deck should probably run 3 card destruction cards, so we have 2 make so here to go with the rite of arms. This card is super flexible, allowing again another way to sneak your way out of disarm, ideally using it with cut down or sever if there are no cards to be destroyed. A couple glares were added in the last set of changes for that little bit of extra interaction, and it is another card you can play any time even without any instants being played to keep the chain going. And yet another slow source never hurts. Strategy Being a hyper aggressive deck, most of the time you want to get attacking as soon as possible. Usually the first turn you should do two moves, one with action and one with initiative; this deck doesn't need to stock up in cards as the whole deck is your hand when you get going. However, you have to judge your opponents deck and your own hand. If you go second and the enemy is another heavy damage combo deck, you might have to take a slower start. Another situation where you might have to take a bit slower approach is if your hand doesn't have enough attacks, in which case you might want to initiative to draw instead. When you get in range, it's time to unleash your fury! Start with attacks like cripple or enfeeble to force your opponents interaction out early. The general gameplan usually is to soften up the opponent on the first turn of attacks, bringing them close to 20 health but not giving them second wind. Ideally, you have some resources left and end up with 3 or less cards, drawing one from errantry. Then for the following turns, you try to find the opportunity to go all in with unbound and finish the job! Sometimes easier said than done. Heavy interaction decks will keep your game exciting as you try to find the correct time to go "all in". Sometimes you will get just the right combination of cards to keep drawing more and more attacks and ability cards to discard after resolving them for that sweet extra damage. Sometimes you end up stuck with 2 ability cards in row that you can't really play, and have to adjust to the situation. A good general pointer to avoid this is to save your initiative as long as you can if you don't need to move/have plenty of actions. This way, when your unbound leaves you with an ability card you can't immediately play like fight with honor in your hand, you can still draw another card and hope to find an attack to fix the situation. Closing words That's it for this deck. I recently played it in a tabletop simulator tournament, and barely lost due to a bad draw at the finals against a very control heavy enchantress. While the slight inconsistency of relying on unbound might make the deck not reach the absolute S tier decks, the unholy amount of damage it can pump out definitely makes it more than just a meme.
In Theorycraft
Huntsman is a tricky specialisation to make work. While they have their strong theme in applying control, the damage numbers they have are a bit on the weaker side, and notably their whole set of cards lacks any instants. However, with this setup I believe I've created a powerful deck for the specialisation that isn't overshadowed too much by other specs. Feats When brainstorming ideas how to make huntsman work, I ended up realising maybe I should try running both of the etch cards; after all they both cost only 2 power and are quite nice. From there my thoughts naturally wandered to curseweave, one of the most amazing feats in the game. In the end, this deck has a total of 17 cards that can be used with curseweave! That's a lot of free power for grabs right there, without running a feat card applicable for the curseweave. For the second feat, I went for pure value with shift, one of the most useful and reliable feats you can have. As a range 1 character you are bound to have a lot of moving around, and gaining a power for doing so is very valuable, not to mention being able to move to difficult terrain without extra costs. Both of these feats generate power, and you will want to have that to be able to use runic slaughter and the various attachment cards. Huntsman cards Runecarve etch and runesight etch are two important pieces of the deck, constantly giving you more value from your assault on the enemy. They are also nice if you are disarmed but not silenced to get rid of control. Runecarve and gravebrand let you set up some control for the turn with minimal costs. Gravebrand's damage is a bit low compared to cards in other specs, but being able to choose the control type does really come in handy at times. Runecarve on the other hand is sometimes just enabling you to reach the lethal with the 2 damage and +1 power, and also triggers your etches without using any actions. This makes it a great start on your turn if you have etches out, since your opponent will be highly hesitant to counter or metacounter a card that doesn't cost anything at all to play. Finally we have on the hunt, which is arguably the best card of the specialisation. Moving and casting runic slaughter for -1 +1 is extremely powerful and makes the card versatile, being both an attack and movement in the same card slot. I cannot see myself playing any huntsman deck without including full 3 copies of this card. Witch cards It is tempting to go for the trusted and powerful druid warrior class core when building huntsman, but with this curseweave build we are going with witch. From the class, we have taken 3 cards. Dark litany helps when somebody else turns your control niche against you. 2 copies feels like enough, however; there is a good split of cards affected only by disarm or silence in the deck, so most of the time dark litany is best used against being slowed. Being able to gain that 1 power to finish the game or tick yourself to second wind from near 20 are also a bonus. Withering curse is a crazy card. If your opponent can't remove it, it will become a win condition on its own. If you get a second copy going, it's game over. Ravenshift provides actionless power gain, with initiative for either movement or card draw. Often you can simply shift afterwards to remove the silence, or play an attack if you are next to the opponent already. Great card. Warrior cards From the warrior, we pick up the deck's damage and interaction, as well as plenty of slow and disarm effects. Cripple and lame slow your opponent, which is useful on its own as well as forces them to use interaction right away, or be helpess against rest of your turn. Unless of course they have some heroic instants. These cards also deal very respectable damage. To finish off the opponent, the deck runs 2 dismembers. To get in range of the opponent, the deck runs whole set 3 of charges. It could be possible to get by with just 2 copies, because of also running shift and on the hunt, but with 3 copies the deck becomes most consistent when it comes to movement. Additionally, when usually having a charge feels very bad against somebody who is already next to you, with curseweave it becomes a -1 +2 stun, which isn't all that bad! This deck is quite tight with its power gains and costs. To make it a bit safer, it includes 3 copies of battle lust. Nice and simple power gain not affected by disarm. Finally, for the interaction. Fight with honor is perhaps the best counter card in the game, costing measly 1 power while being capable of utter devastation. Usual use: stack a lot of control on the enemy, and when they try to resolve a card to gain power, you hit them with this card. And that just might be enough to break their plan to pieces. Pommel strike is a card I didn't really warm up to for a long time, but I'm starting to like it more and more. It is already rather efficient when used simply as an attack, but then it's additionally an instant card. Often you will start your turn with an attack that would control the enemy, they try to react with something, and then you play pommel strike to metacounter whatever they used. Then we have goad. I was contemplating for the longest of time do I want to run intimidate or this card for an additional source of disarm, which is probably the most important type of control for the deck. In the end, I ended up preferring the increased interaction with goad. One of the reasons is, if you have even a single withering curse going on, intimidate is going to lose value because you can't go past 5 disarm. And with 2 withering curses on the opponent, intimidate becomes almost completely worthless. As such, goad proved to be the superior choice. Gameplay The aim of this deck is to be very aggressive and mess up the opponents plan with continuous control. If you go first, almost every time you will want to use your initiative to move and move once more with shift. Optimally you would also use one ravenshift here before shift for an additional power and card draw. If going second, you will have to estimate gameplan of your opponent. You definitely don't want to go too close and let them get the tempo advantage on you. Once you get close, you will hopefully have either runecarve etch or runesight etch in your hand. At this point you have most likely used shift twice, so you will have enough power especially with curseweave to start the barrage of attachments. You want to get these on your opponent as fast as you can, to start generating the value. The good thing about this deck is, there are so many attachable cards it doesn't matter if your opponent destroys some of them. You will simply replace them with new ones. Even in the worst case scenarios, the deck can still dish out enough damage to win the game even if the auras don't stick around. Important thing is to identify which control is the most important against the opponent at hand, and respectively choose what cards to play first. Sometimes it's more valuable to put on withering curse over runecarve etch, sometimes vice versa. Another thing to consider is how tanky your opponent is. While this deck packs a lot of damage, it is still not its strongest suite and might struggle against some of the tankiest adversaries out there. What this means is that you have to carefully weigh how often you want to play runic slaughter. For -1 -1, 5 damage at range 1 is not all that powerful as far as tempo is concerned. However, if you forego playing your ultimate too many times, you might find yourself running low on damage to close out the game. Weaknesses and modification ideas This deck does not run any card destruction, and as such will run into trouble if the opponent gets the upper hand in tempo and has a lot of cards out generating value. If you wish to include card destruction in the deck to fare better against such decks, you might want to consider replacing runecarves with spoil. Spoil is a good option for card destruction of the chosen archetypes, because the second option is almost always incredibly useful if the card destruction is not required. Another weakness would be high damage/combo type decks at range 3 or 2. The interaction of the deck is limited to range 1 except for fight with honor, which means you have to be very careful to not get controlled too hard before you can reach the opponent. If you are facing a lot of slow and enemies running away from you, you could consider changing up dismembers for pain hex, giving you an option to reduce slow from range if you are not disarmed, or just finish up an opponent who keeps getting away from range 1. That's it for this deck! Good luck hunting down those pesky cryomancers.